Welcome to the English website of the student aid programs at KOSAF. Thank you for your interest in the student aid programs at KOSAF and in talent development support.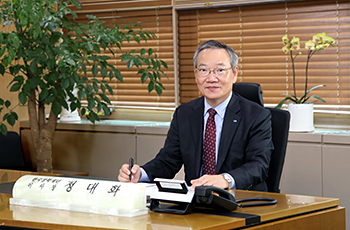 "We will contribute to nurturing Korean HR development with a warm management that thinks about students "
Dear all,
I am Joung-Woo Lee, the chairperson of Korea Student Aid Foundation.
The Korea Student Aid Foundation is a semi-governmental organization established in 2009 to provide opportunities for higher education, regardless of economic conditions, depending on the will and ability of all. Since its founding, the Foundation has implemented a variety of programs to alleviate the burden of higher education costs, improve student welfare, and cultivate future talents. We have operated various systems.
As a result, the total amount of the national grant has expanded day by day and has supported students for KRW almost 4 trillion in 2018. In addition, the interest on student loans has been continuously reduced through close consultation with relevant departments, reaching 2.2% in the second semester of 2018.
We did not spare our efforts to respond to the changing view of higher education and the demands of the changed students. In 2017, the KOSAF Unified University Students Dormitory was opened to solve housing welfare. In 2018, a new 'University Global on-site Learning System' was created to provide university students with opportunities for on-the-spot learning, and a 'scholarship for high school graduates students' was provided to high school graduates employed.
There are still young people who can not overcome the barriers to higher education and are unable to fulfill their dreams. I and the Korean Student Aid Foundation will commit to improving the opportunities for higher education for young people who are willing and able to study. We will not stop challenging and innovating.
We always support and aid educational blind spots and work hard to alleviate the burden of universities, students, parents with a warm management that thinks about Korean HR development.
Thank you
Joung Woo, Lee
Chairman
Korea Student Aid Foundation